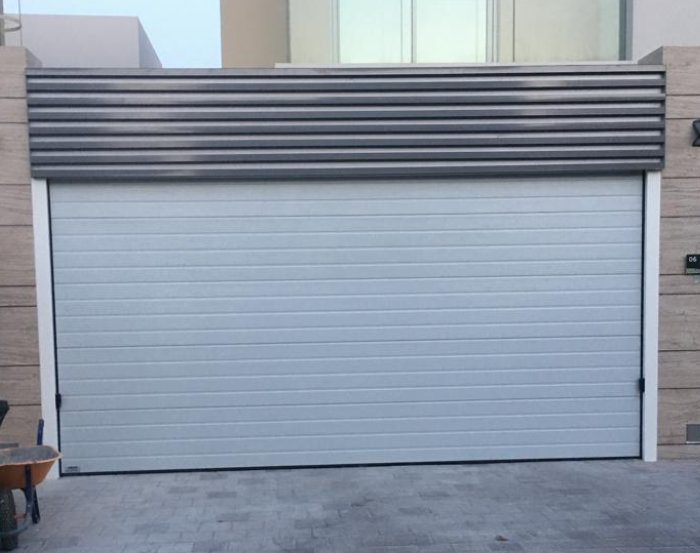 Customized Garage Door System Installation in Sharjah
Introduction
A Sharjah-based Al Zahia community was looking for a customized garage door with a fixed design. Their goal was to find a solution that complemented the aesthetic of the community while meeting their specific needs. For this project, we selected a high-quality garage door from Seip Italy, known for its excellence. We incorporated German motors into the door to ensure durability and reliability. During the installation, we utilized a garage door product from Seip Italy, establishing a strong partnership with a German motor manufacturer to guarantee a reliable and efficient garage door system.
Challenges
Creating a permanent design that matched the particular needs of the neighbourhood presented the project team with its biggest difficulty. While addressing the practical requirements of a garage door, the design had to easily blend into the neighbourhood's existing architectural style.
Solution
The team collaborated with the Al Zahia community, addressing the issue through extensive meetings to understand their design preferences. We included extra structure work based on the specifications to produce a unique design that fully complemented the community's goal.
Results
The project team completed the installation of the garage door effectively and in accordance with the specifications established by the neighbourhood. As a consequence of the installation's scrupulous attention to detail, the integration of the garage door flawlessly enhanced the overall look of the neighborhood.
Benefits
The project team's specialised design was tailored specifically for the community. Providing residents with a garage door that perfectly matched their preferences enhanced the community's overall appeal.
Conclusion
The project team received repeat business as a result of the project's successful conclusion and the happiness of the neighbourhood. In addition to solidifying their reputation, the team also demonstrated their expertise in providing specialised designs for communities by delivering a perfect installation. As a testament to the team's ability to deliver outstanding results, this project proves its dedication to customer satisfaction.